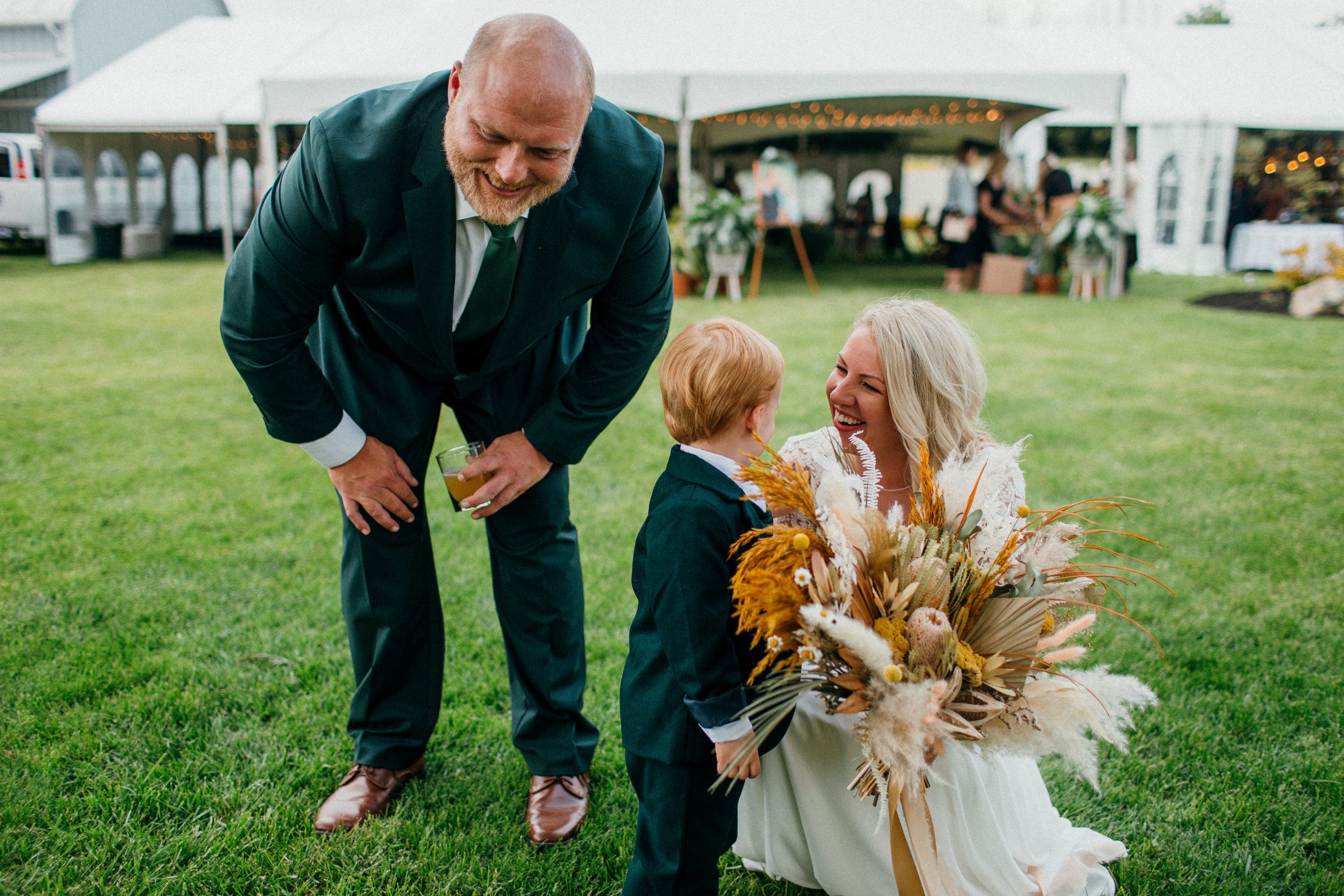 I am honored to be this close to such moments.
Hannah & Keven got married in her parents backyard where they had their first kiss 12 years ago! Nothing short of an amazing celebration🥳 Their first look happened on a dock in front of the apartments where Keven lived when they first started dating and someone waved at them from the exact apartment he lived in. Hannah handmade jewelry for each of her bridesmaids as the proud owner of Spoons & Such. And their son was the ring bearer who also got carried down the aisle during their recessional!
I had photographed their little fam of three just 2 months earlier at their home in Cincinnati, OH - you can check that out here. Everyone was in tears and laughing at their son, Sonny, carrying the rings while also chewing on his red sucker. After their genuine vows and Keven's tears having everyone else in tears, they danced the night away under their big white tent, reclined on vintage furniture from Queen City Vignette, ate delicious grindz from a local pizza & taco food truck, and enjoyed craft brews & handmade cocktails under about 100 ferns, dried florals from Flohemian Floral in what Hannah named "Jungle Vibes".
To cap off the night, they did their parent duties and put Sonny down for bed, then we caught one last photo of them kissing in the same spot they shared their first kiss just 12 years ago! SO much intentionality, personality, and love went into this amazing day; I hope you enjoy it as much as we did.
Thanks to everyone who made this day possible and helped H&K's vision come together:
Queen City Vignette - vintage furniture
Taj Hat Co. - one of a kind hat
Flohemian Floral - flowers
Spoons & Such - bridesmaids jewelry
Mariachis and Bella Sorella Pizza Co. - food trucks