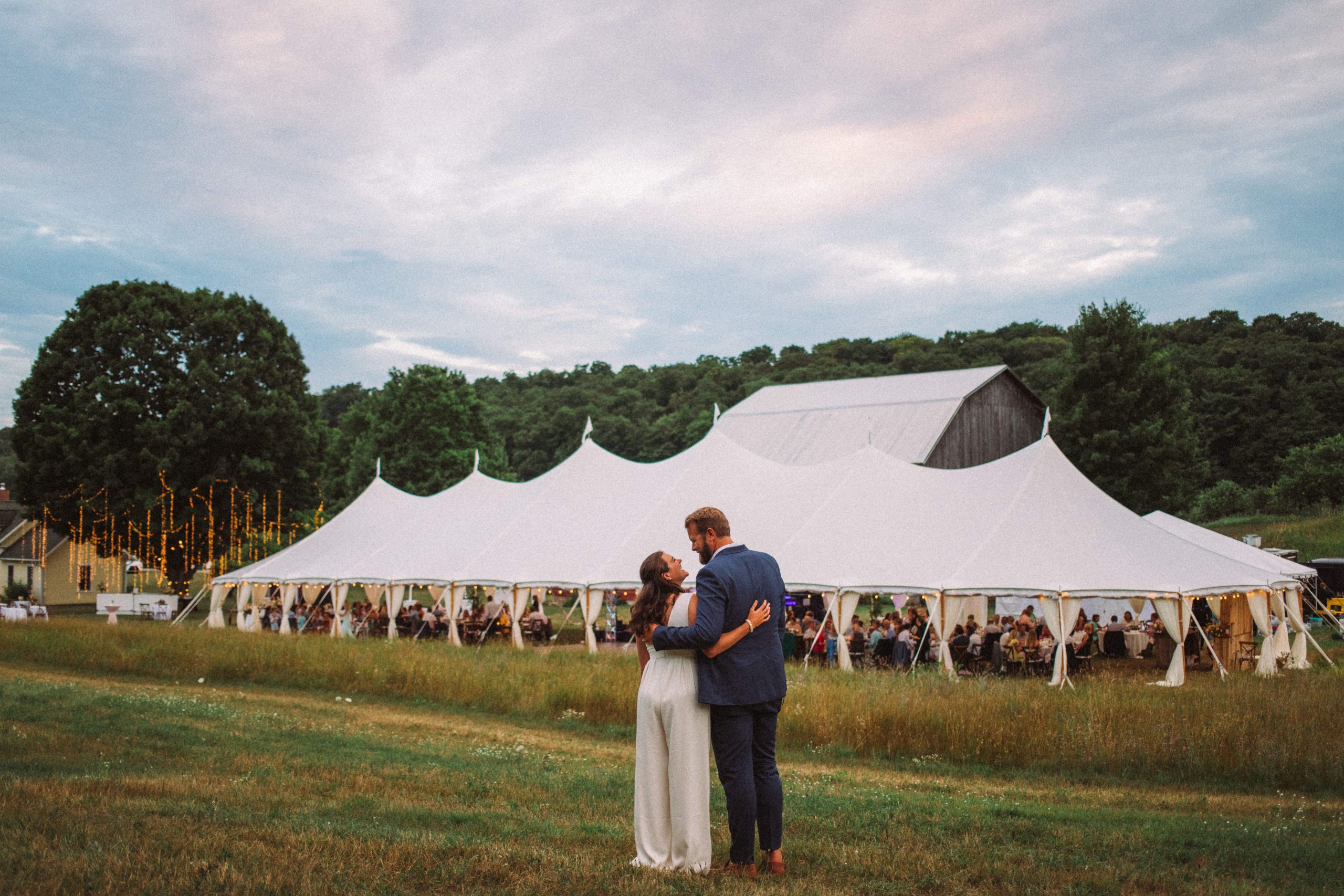 This was the quintessential Northern Michigan wedding weekend up near Traverse City in Leland Fish Town. It started with a rehearsal dinner at Dune Bird Winery (which happened to be owned by Ainsley's cousin & husband) - the evening was warm, lit with string lights, filled with joy and the melodic sounds of Johnny P Music. It was such a gorgeous sunset in the vineyard with A&C and a few other couples while I also sat back, watched, waited, drank an espresso and caught lots of candid moments as they welcomed all their favorite people to their wedding weekend celebration. They had already eloped back in April of this year so they took this time to throw a huge party & feast for their larger network of friends & family and it did not disappoint!
On Saturday, the evening started in the backyard of a private residence of some friends who owned a Cherry Orchard; the tent was setup and beautifully decorated by Rachel & her team at Sincerely Ginger with mocktails, cocktails, wine & beer served by a wonderful & kindly service team. Everyone chatted & enjoyed company until it was time for A&C to repeat their vows from their elopement in the Bahamas which had many of us in tears and I'm sure many more challenged and encouraged in marriage! After some heartwarming speeches & much glory given to God for the gift that marriage is, the band - Intrigue from Detroit - kept the dance floor packed & groovin' for the remainder of the reception. At 11pm, they moved the after party to the property's century old barn where the DJ kept the party going and Ainsley's mom had setup a slideshow of their elopement.
On Sunday, the weekend festivities kept rollin' with a beach cottage hang at Ainsley's mom's favorite place in the world - a tiny little red one bedroom cottage on the shores of Lake Michigan. It was a rainy, misty morning, but that only made the cottage all the more cozy as a couple handfuls of people packed in, ate croissants, drank some coffee, and continued to reminisce on the sweet quintessential Northern Michigan wedding weekend. The cottage has been in Ainsley's mom's family for a few generations as you can see paper plates hung on the walls recording the water temperature through the years with a very serious warning reading "DO NOT DESTROY" 🙂 And as tradition went, each person had to put on a handmade, knitted swimsuit and jump in the Lake. So everyone lined up, held hands, and walked into the rocky beach - and something really special happened to end the weekend; as the waves rolled in overhead and the rain came down from the heavens, everyone beamed with smiles, laughter, and tons of camaraderie as they found the hidden "standing rock" together and dove into the crashing waves.