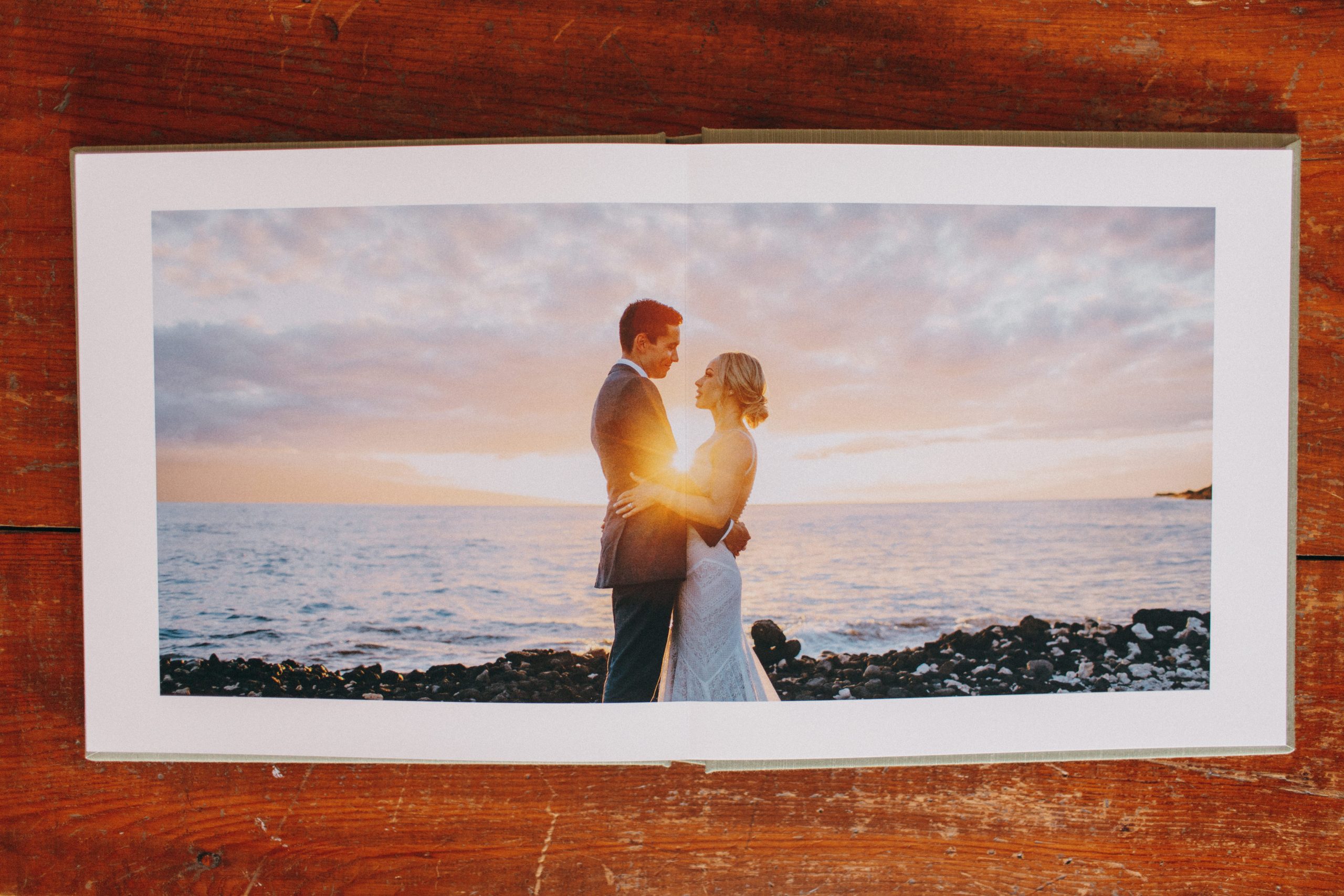 A lot of people have their life documented either as a family or on their wedding day, but too often images come to a halt and end up living the rest of their life in the cloud, on a hard drive or computer. The main obstacles tend to be:
1. TIME to choose photos
2. WHICH photos to use
3. WHAT media format to print them in
4. HOW or where to display them in the home
My main goal in this post is to educate people on what each format works best for, offer design options, and inspiration. When you're looking to order a lot of prints or an album with me, we have a video consultation so I can help you choose the right photos, the right formats, the correct colors, and design options for your home & style!
I will list out the different ways you can print your photos and then offer the type of images that work best in each format, offer a few design tips, and the best place to display these formats in your home. Before I dive in, I want to share that our style tends to be more eclectic, creative, and changes from room to room. This gives each room it's own feel as we try to work with the style of each room & our home to give each space its unique flavor.
ALBUMS
One of the best ways to print photos in our highly-photographed culture is to make an album. This starts with wedding photos and I encourage families to make an album for each year. This is a quick & easy way to enjoy past memories and make new ones together because we all know it's much more enjoyable sitting close together around a good book than it is spread out watching a screen! As a family, you may only have professional photos done once a year, but there's so many phone and 1-off images that could also make it into the book. I have a system those could be uploaded to and then I can download & build designs for every year albums.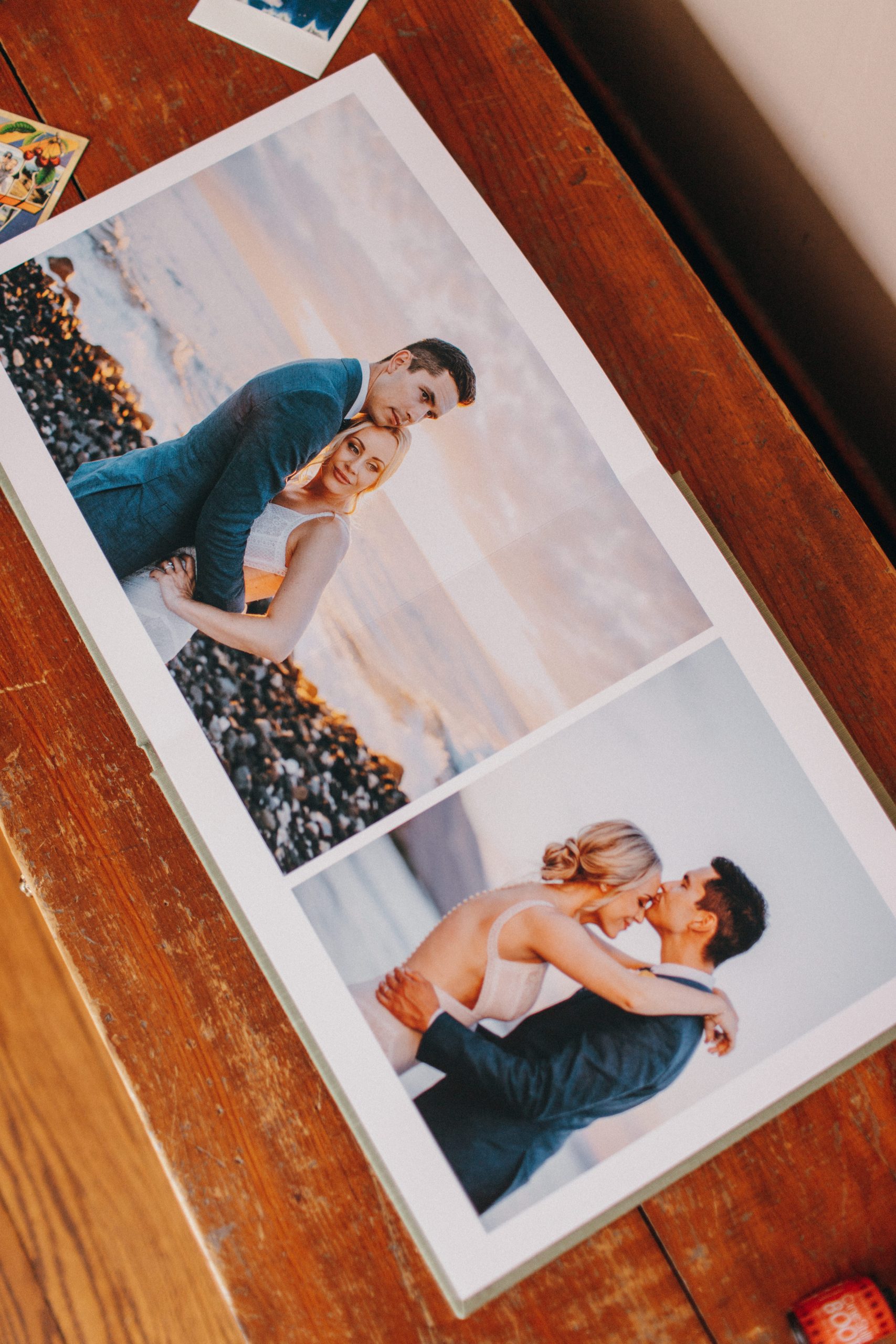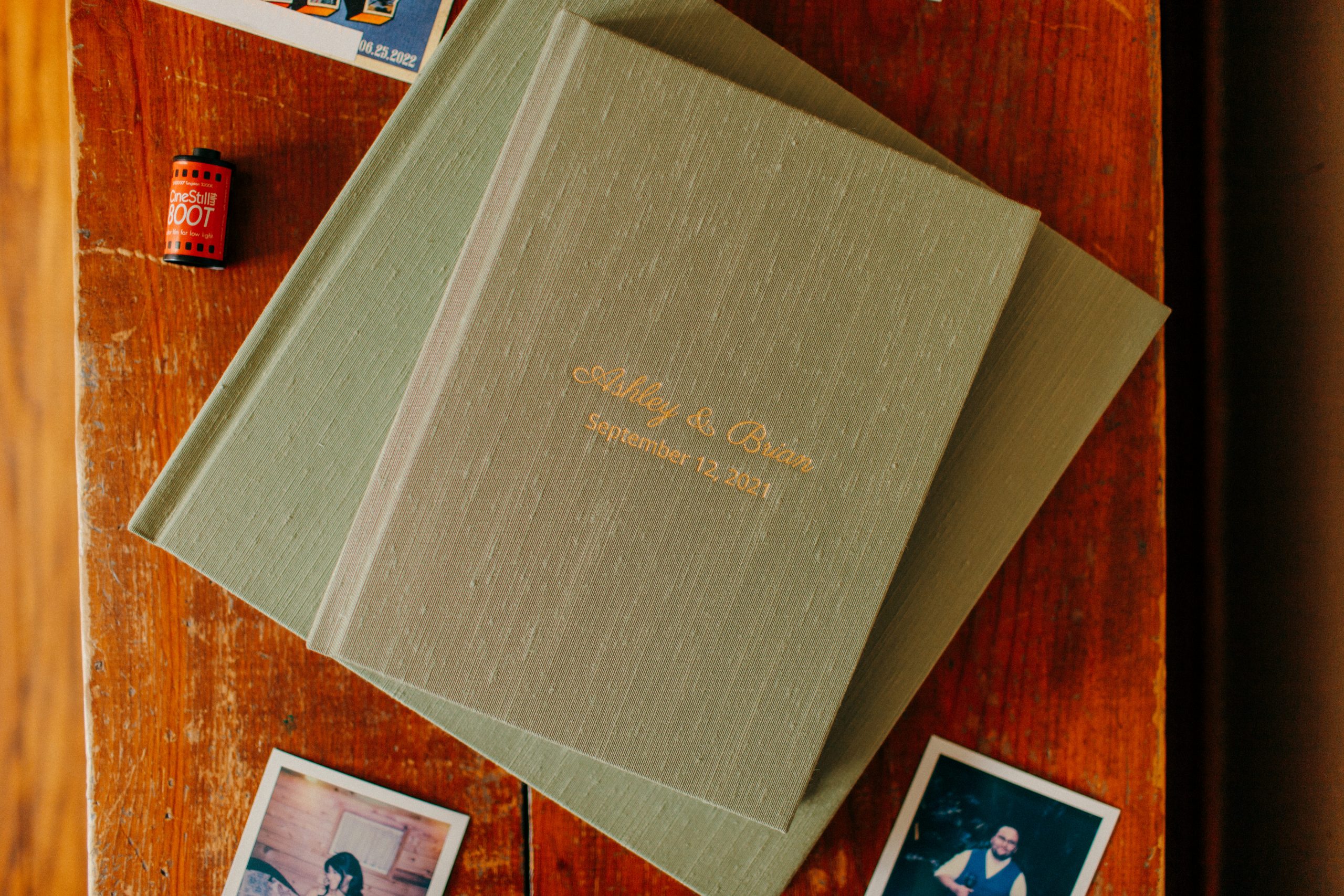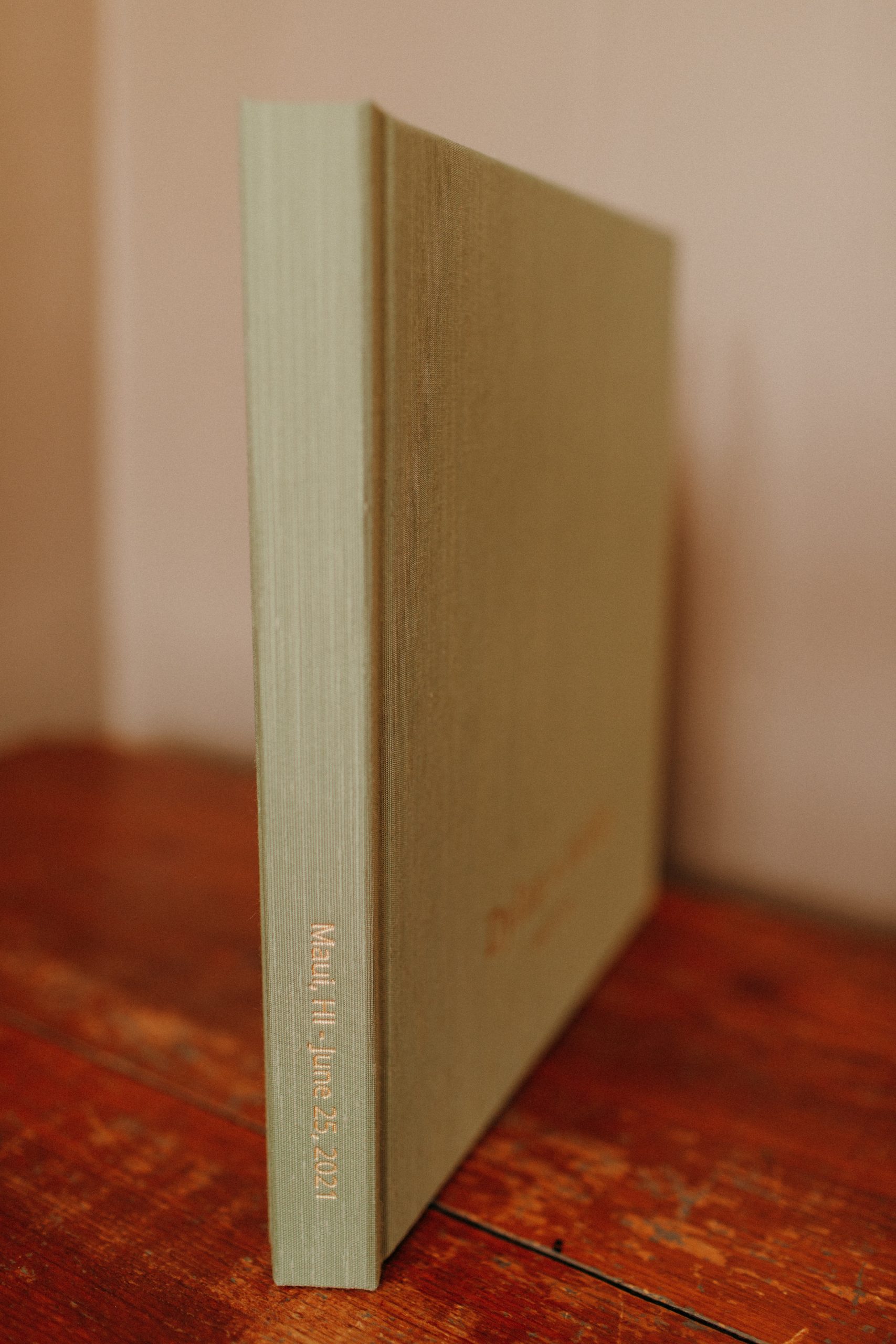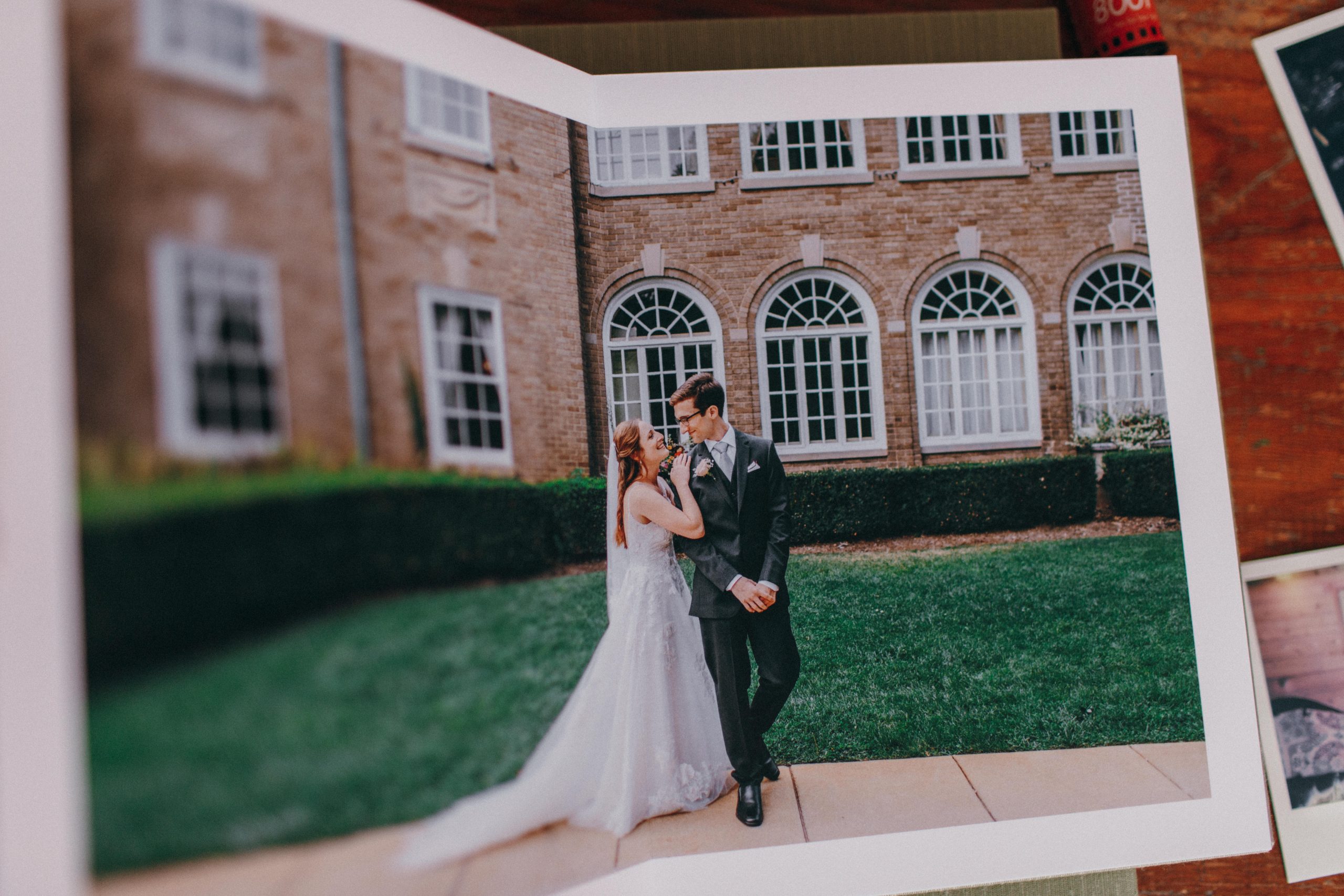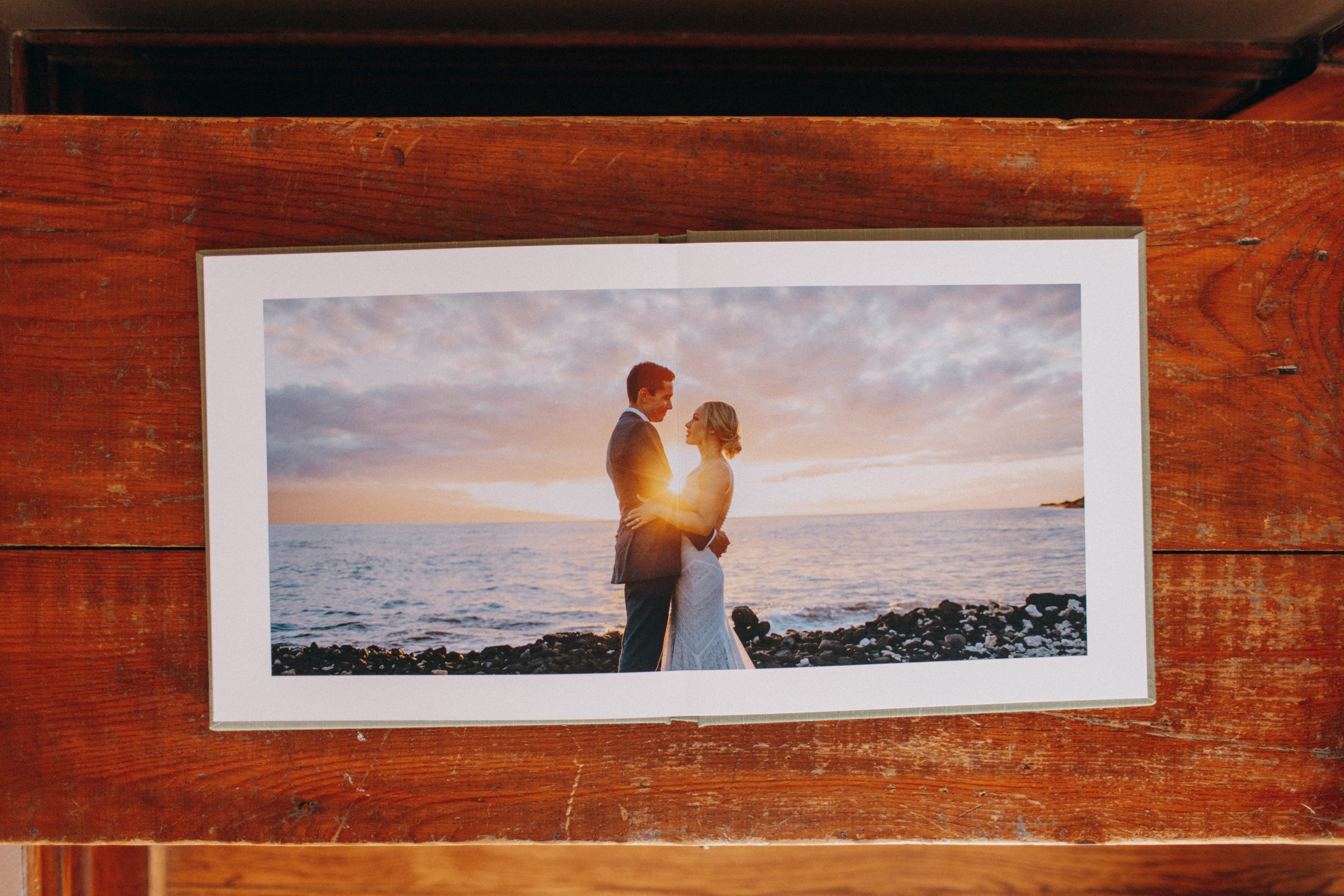 The best way to display albums is either on your coffee table (in which case you might want a display box to protect from spills) or on your bookshelf. These are the two places they'll get picked up the most by guests & kids as you build a healthy family culture of remembering your past. If you're going the bookshelf route or stacking books on your coffee table, I recommend putting an extra stamp on the spine to indicate the year for your family or date you got married or something else fun like "Life Is An Adventure - Keep Exploring!".
Before choosing where you'll display your album, you'll want to consider the size (ranging from 8x8 to 12x12). The bigger the size, the bigger the images and more space for "wow" spreads as you highlight certain images OR you use the extra space to include as many images as possible. You'll also want to consider the size of your album in proportion to the bookshelf or coffee table you'll be putting it on.
After the size, you'll want the color & aesthetic of the book to match your home or room you'll be displaying it in. Albums come in cloth, velvet, and leather options with various color options for each. Some people choose earthy tones, others want it to pop in the room, and some want the authentic, timeless feel & look of a leather album. Along with the cover material & color, you'll want to take into account the color & font type of your stamp. Again, some people choose a simple font, others go for elegant and "swoopy" and some create a graphic with unique design elements (like a tree, rainbow, plants, etc.)!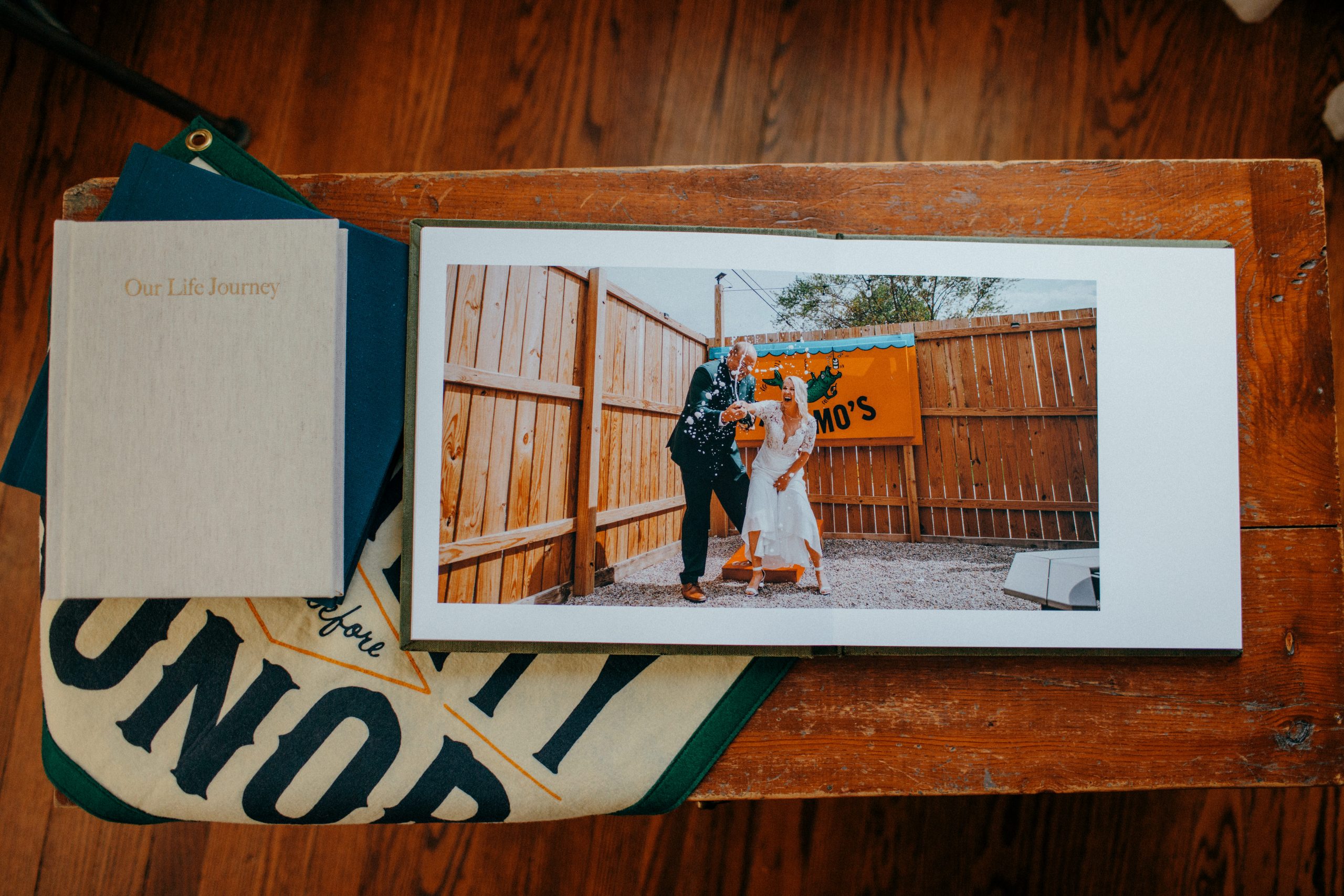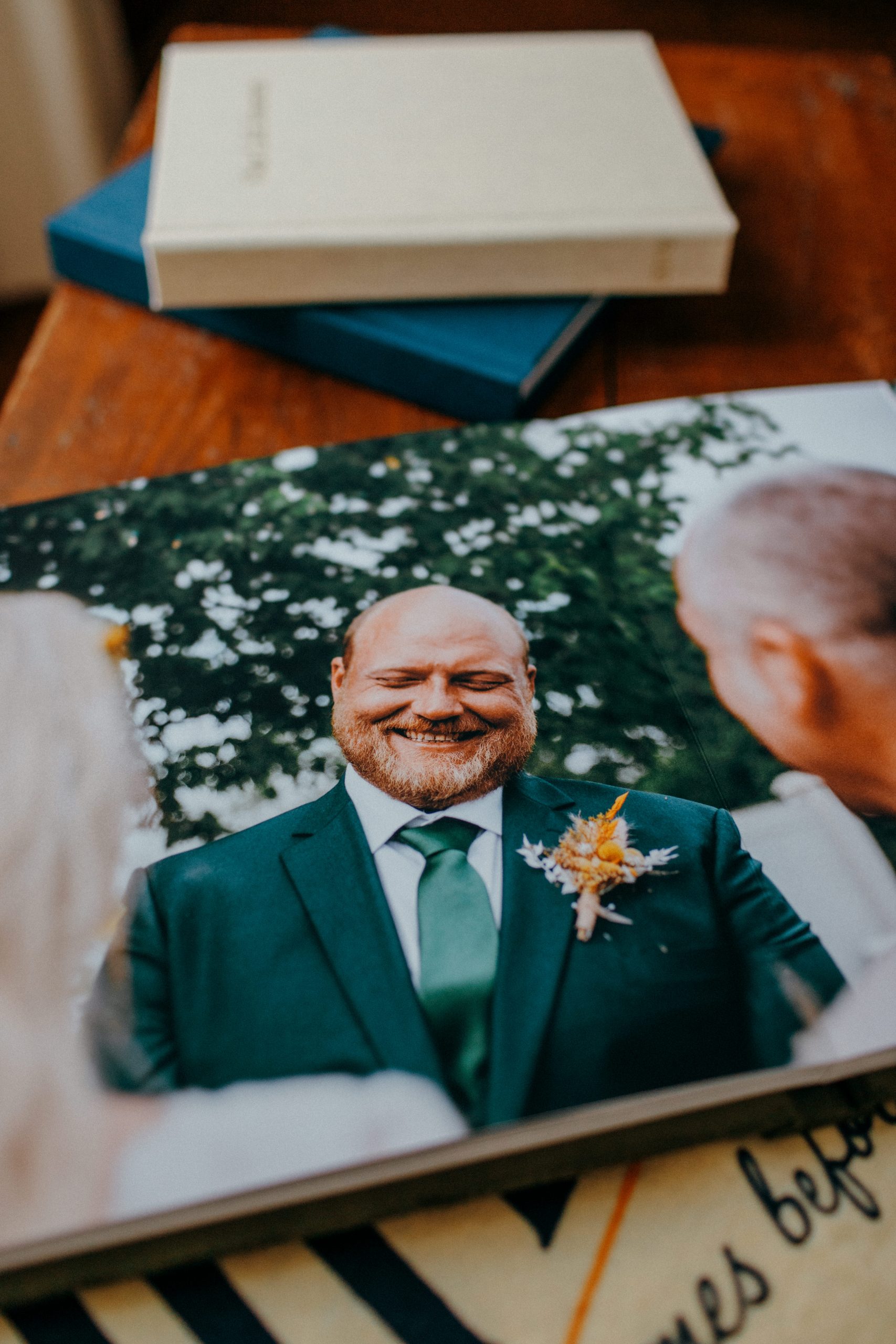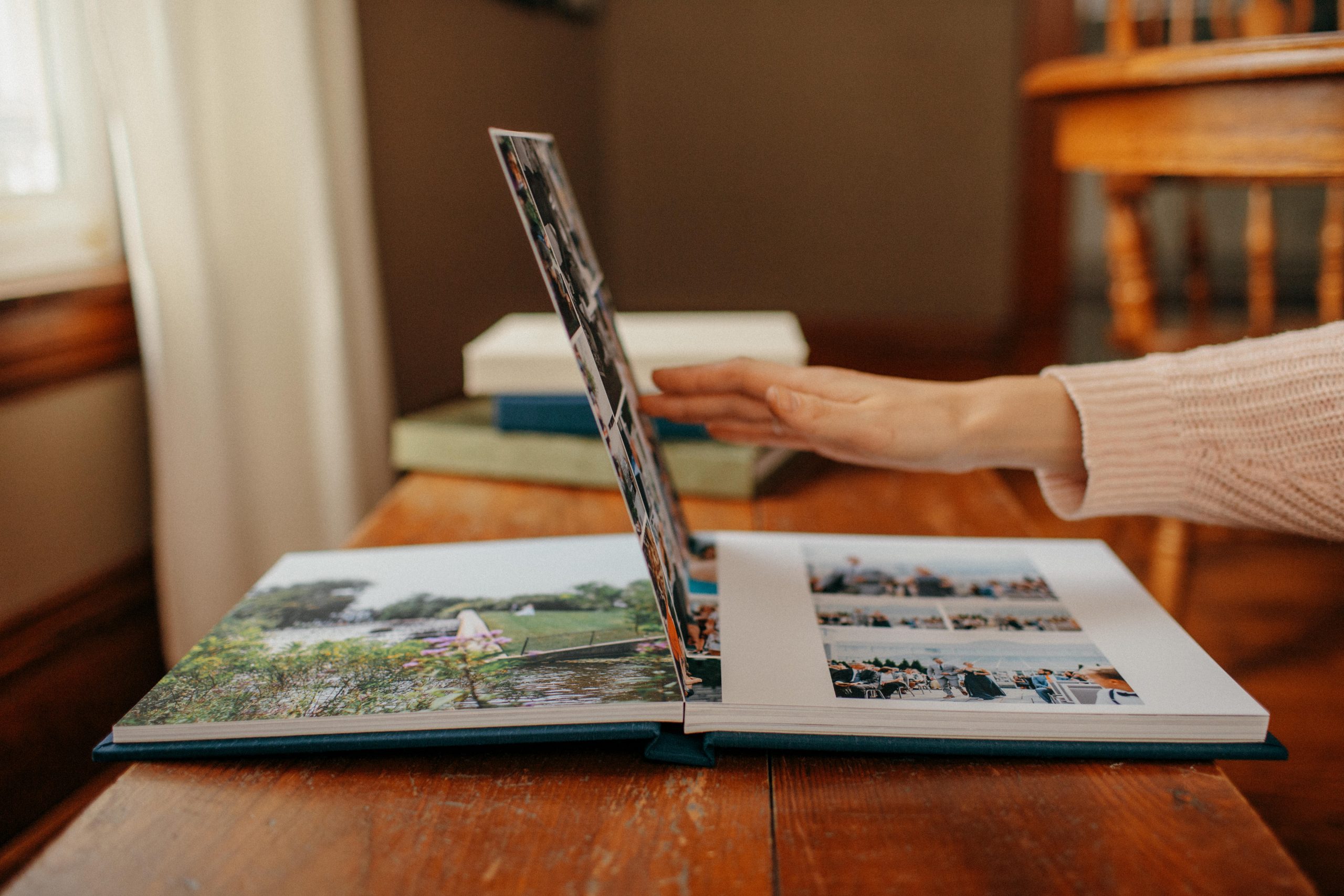 Albums are best for a compilation of images, moments, or a story (like a wedding day!)
Find out what style matches the aesthetic of the room you're going to be displaying it in
Keep in mind where you'll be showing it and keep it the right proportions
Depending where you choose to display your album, you may want a spine stamp or display box
FRAMED MATTED PRINTS
I love these because of the various sizes they come in and the versatility they offer when decorating a room, home, or office AND they can then be passed down for many years to come as they're printed on museum quality paper and fitted to a beautiful mat. My favorite way to display these is in a gallery wall.
If you're like us, you may choose a more eclectic feel to your gallery wall that uses different medias (graphics, pennants, candle holder, etc), gives a unique frame to each image, and/or prints photos in various sizes. Or you may have it more straightforward where the frames are spaced equally apart (like we did in our current living room) and are the same size and same color of frame. Again, it depends on your style and how it fits the room's "vibe". You may choose to print several to hang down a hallway or above your bed! Lastly, you may go the stand alone route to hang in an office or have a large formatted print to be a statement piece in your room of choice.
Below are two ways we've chosen to display framed prints in our home & past apartments: the eclectic gallery wall with mixed media (a pennant, a hand-painted canvas of Hawaii from a family friend, a graphic from Nick Kuchar, a framed surfing silhouette, and some string lights) OR a portrait of each person in our little fam and a few combos of us together. You could also do this with wedding images too (obviously!).
Framed matted prints tend to be best for portraits and iconic, classic, timeless images versus the more moments based images found in albums. And when the new year comes, we can store these away in a Mat Box that has the year stamped on it so they stay preserved to be passed on to our kids & grandkids.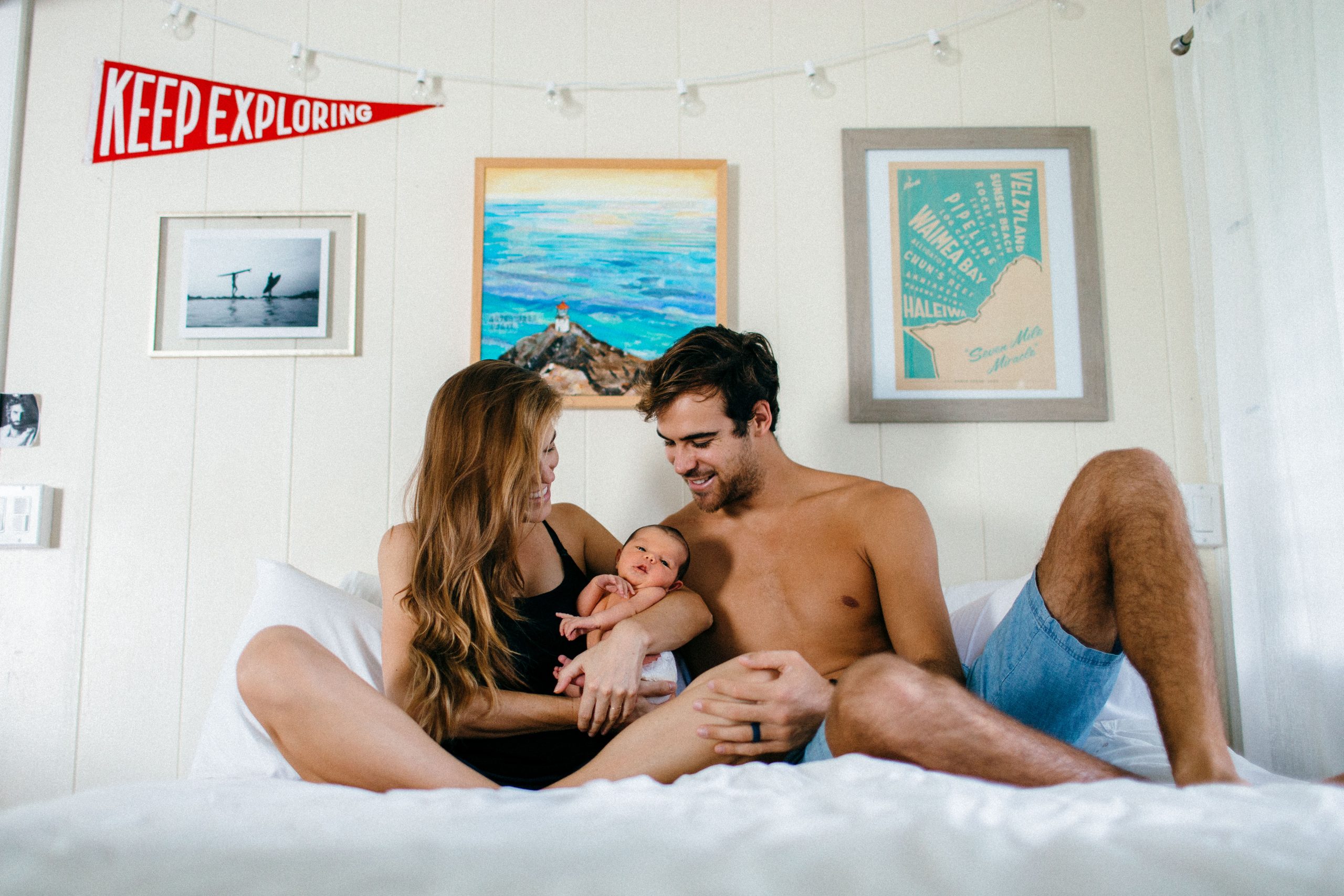 Eclectic mixed media gallery wall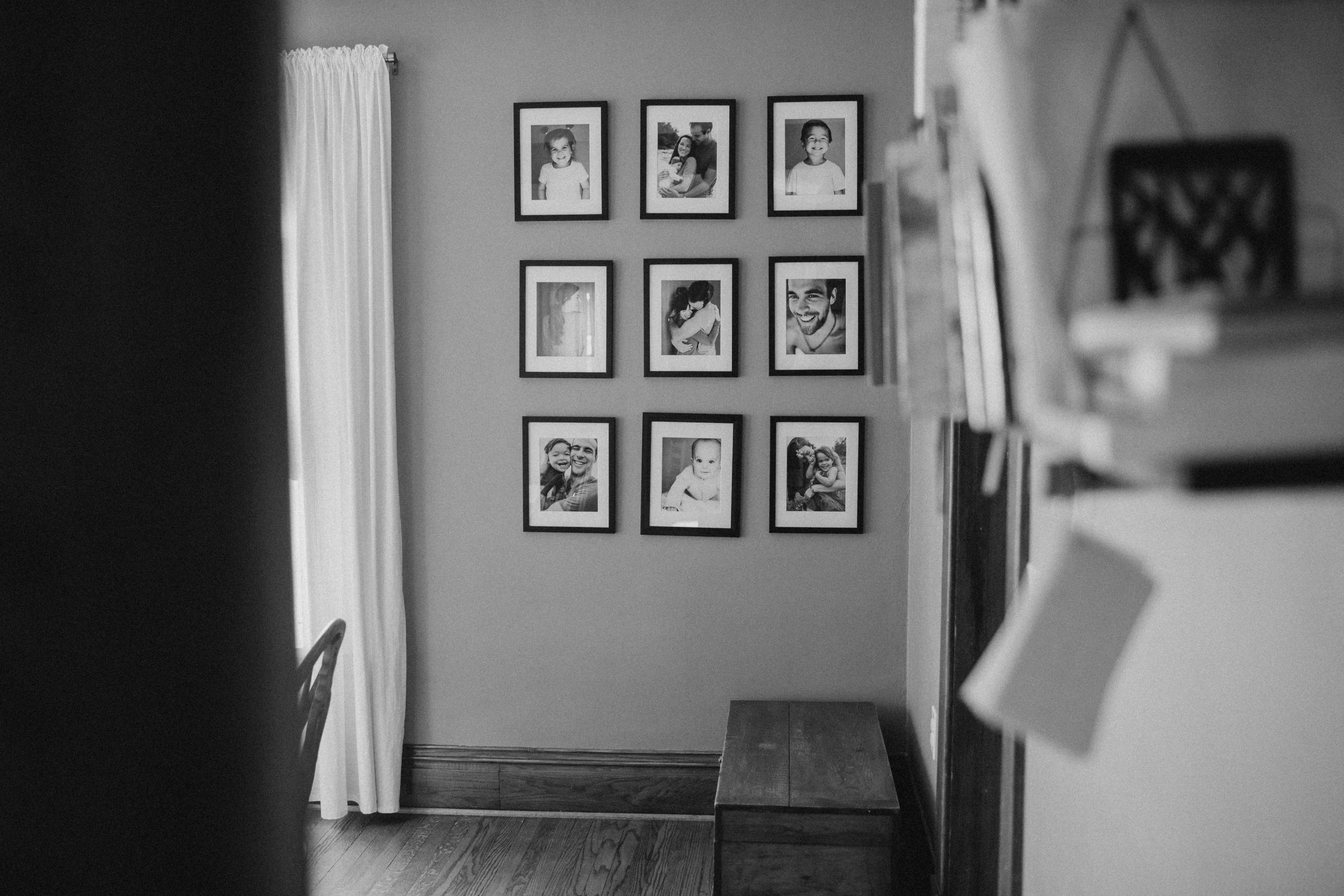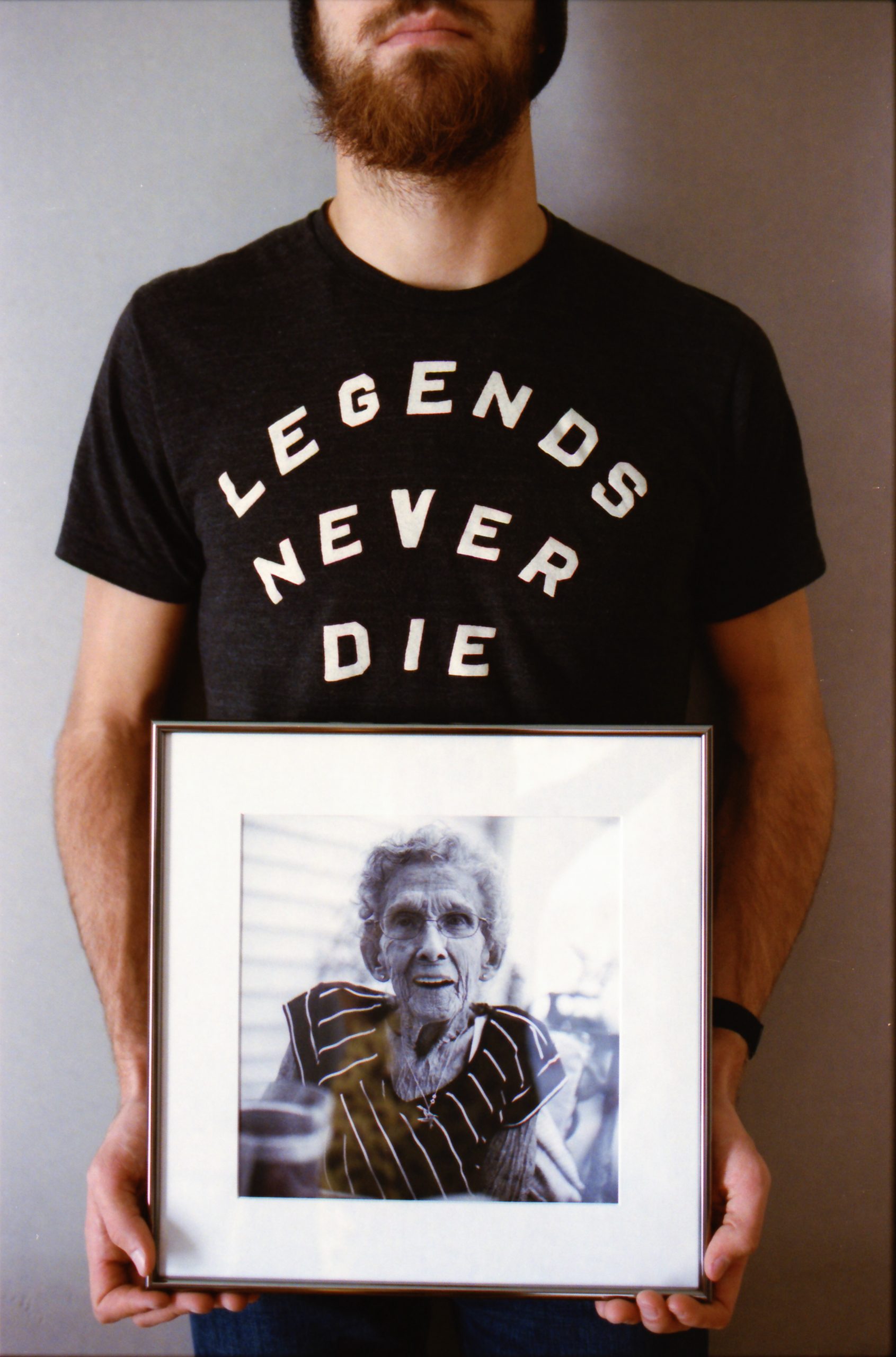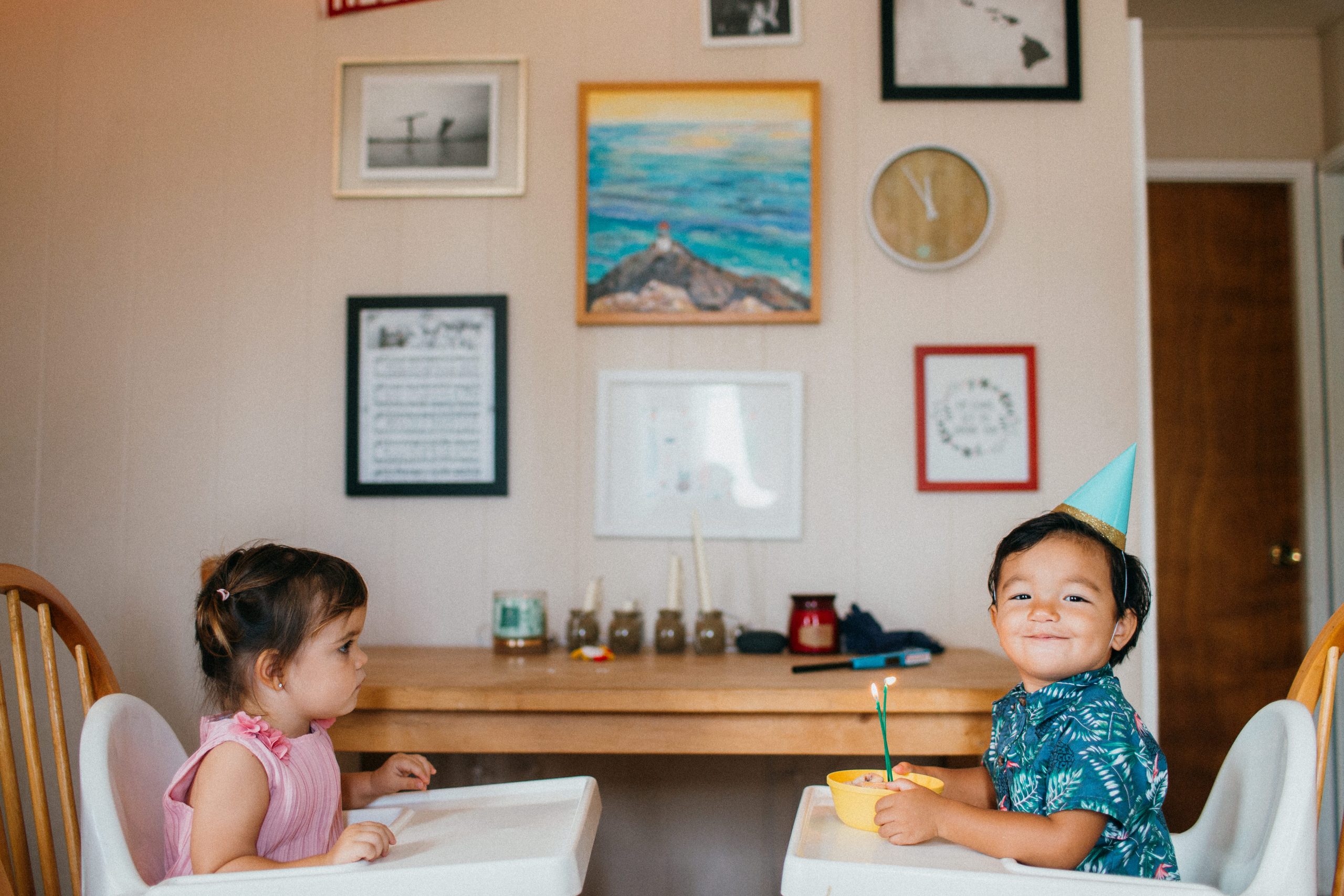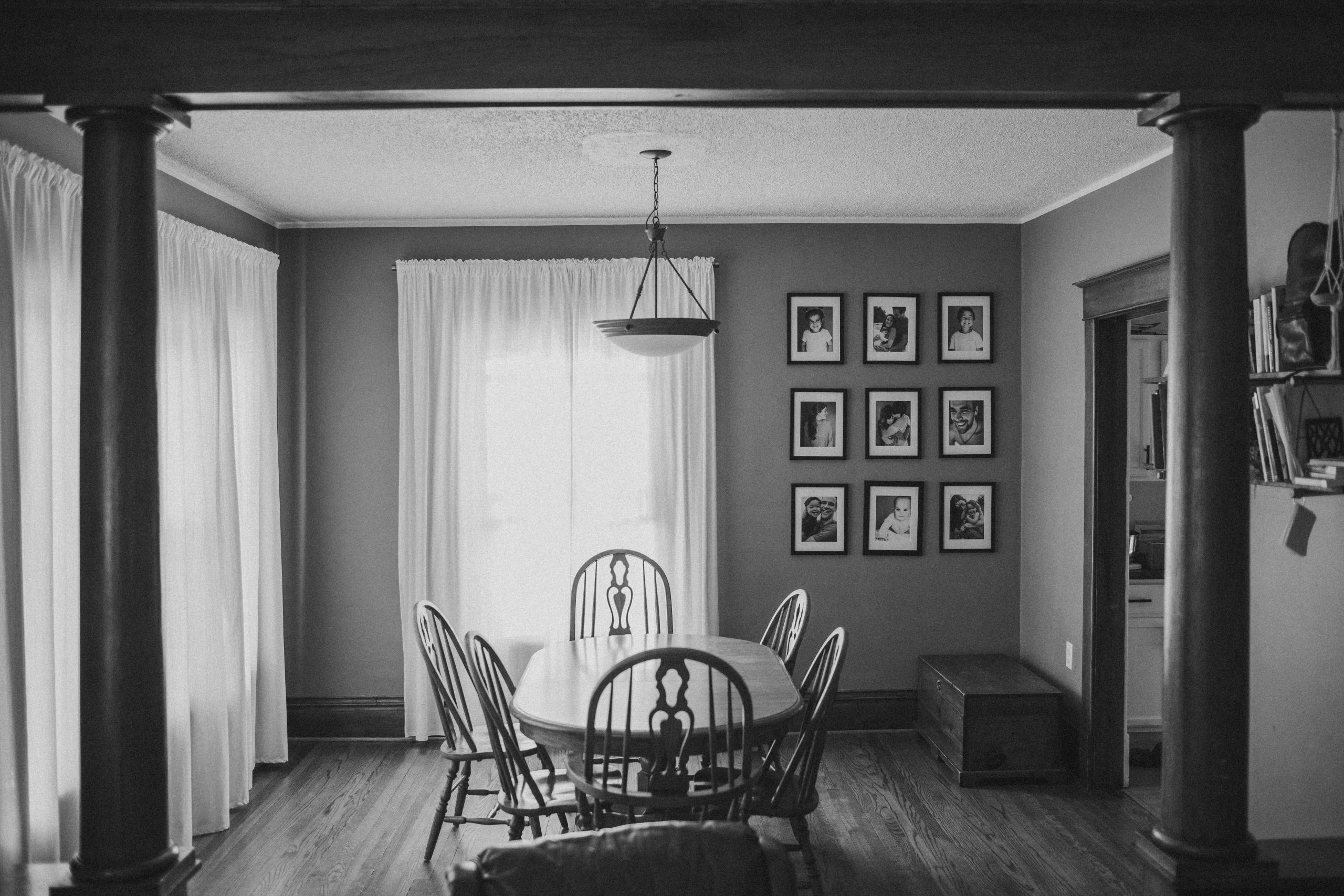 Simple & Timeless Gallery wall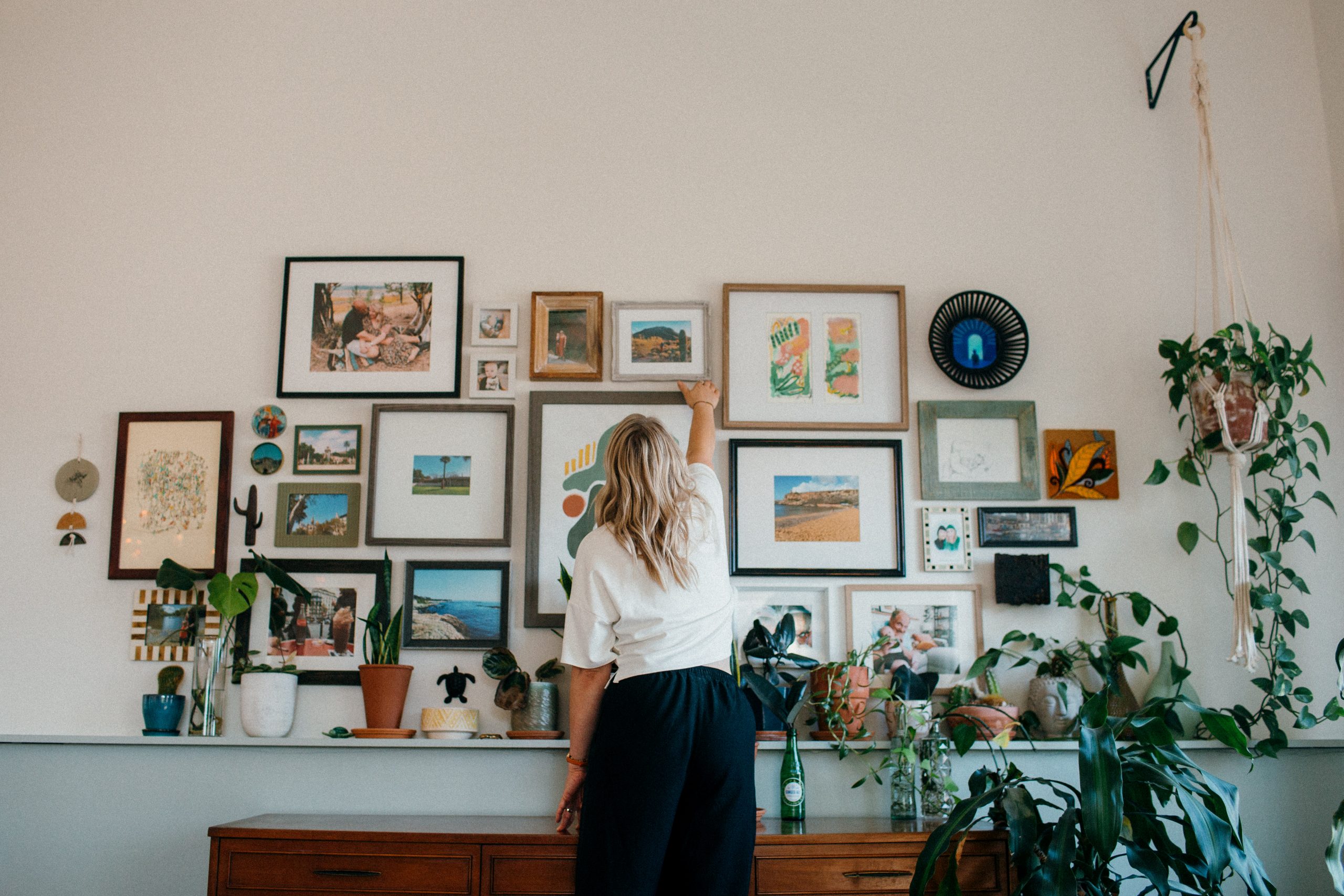 Very eclectic gallery wall
framed matted prints display options
Store them away in a mat box that is covered in cloth, velvet, or leather to pass on for decades
Typically found in your bedroom or home office; it's your "favorite photo ever!" image & it's BIG
Great for a hallway that needs some character or 3-4 prints above your bed
Depending on your style & room vibe, this can be mild to very eclectic or timeless & simple
"EVERYWHERE" PRINTS
I title it this because of our eclectic style, but this mainly consists of smaller prints like 4x4's, 4x6's, polaroids, instax wides & minis. Obviously you can order the 4x4's and 4x6's in The Shop while you would have to take your own instant photos. This way of printing works great in smaller spaces like apartments, a reading nook, a corner of the home office or any room you want to give a ton of character. You can also choose to get these prints as gifts or store them in a print box to set out and share with company! You can sticky tac them to outline a doorway or archway, in a gallery format, on a square beam or open face of a wall, put them in a scrapbook (yes, those still exist!) with washi tape, clip them onto some string lights, hang them in a frame, or place them along a skinny shelf in the kids' rooms.